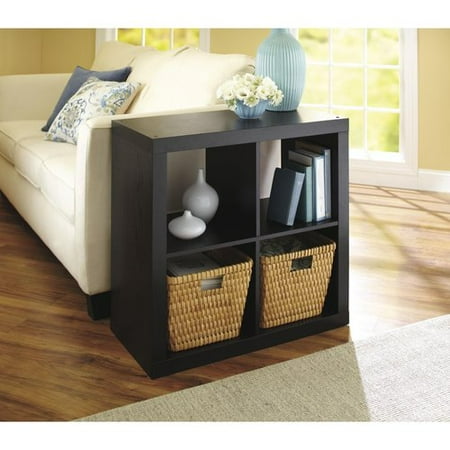 Better Homes and Gardens Square 4 Cube Storage Organizer, Multiple Colors
Information regarding the items are compared based on input acquired from article numbers and item keywords. Once you jump to the external online retail site, the actual item and conditions may be different. Once you jump to the external online retail site, please make sure to confirm the item and conditions. Please note that items that do not come up in the search results may be lower in price, and the list price may fluctuate.
Detailed information
Product description
When it comes to organizing our living spaces, some of us need a little extra help, while others require all the help they can get. Both kinds of people can benefit from a little extra shelf space, so you can keep everything in its place, without having to hunt all over the house to find your favorite slippers. And if you're looking for an easy-to-assemble and low-key display case, this 4-Cube Storage Organizer by Better Homes and Gardens is a simple and elegant way to show off your personal style and your favorite framed photographs, elegant vases, rustic rattan baskets and stunning coffee table books. Crafted of sturdy MDF and particle board, this organizer is easy to put together and available in a palette of neutral colors that can fit into almost any home color scheme. Hardware included.
Better Homes and Gardens Square 4-Cube Organizer:


Number Of Cubes: 4 cubes
Dimensions: 15.35"W x 30.91"D x 30.6"H
Material: MDF and particle board
Colors: Multiple Colors
Assembly: Easy to assemble; hardware included
Model# BH14-084-099-03
Package Dimensions: 18"H X 34"L X10"W
Versatile
Creates multiple storage solutions
Use with cube storage bins, multiple colors and baskets up to 13"H x 13"W (sold separately)
WALMART.COM SM is a service mark of Wal-Mart.com USA, LLC and Wal-Mart Stores, Inc.
Search from sale information
Sale information at May 23, 2019, 8 pm
Share Price-Funnel
"Price-Funnel" aspires to be a more user-friendly site. It would mean a lot to us if you can share our site from the share button below.
Could you please take some time to answer our site-improvement questionnaire?
"Price-Funnel" aspires to be a more user-friendly site. We would appreciate it if you can take the time to answer our questionnaire annonymously, as we value the input of our users.