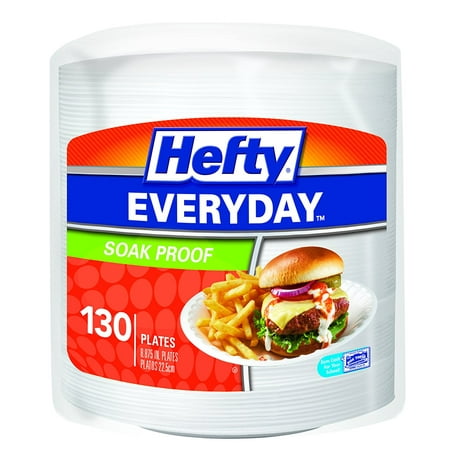 Hefty Medium Round Foam Party Plates, 130 Count
Information regarding the items are compared based on input acquired from article numbers and item keywords. Once you jump to the external online retail site, the actual item and conditions may be different. Once you jump to the external online retail site, please make sure to confirm the item and conditions. Please note that items that do not come up in the search results may be lower in price, and the list price may fluctuate.
Detailed information
Product description
Hefty Everyday Medium Round Foam Party Plates allow you to serve your family or a crowd with flair and clean up in a snap. Their round shape, durability and soak proof layer make these disposable plates a go-to choice for family meals, picnics, barbecues and large, casual get-togethers. Choose coordinating party plates, bowls and cups from Hefty's line of disposable dinnerware to create a festive decor that leaves a lasting impression. Sturdy and versatile, these round foam plates handle all kinds of meals, including dessert, sandwiches, fruit, hamburgers and more. Use these disposable plates to serve meals or snacks without worrying about messes. You can also use these Hefty plates to serve toddlers and kids snacks and meals or for kids' craft projects. A soak-proof layer not present in regular styrofoam plates helps prevent leaks and stains on clothing and furniture, making the dining experience enjoyable for everyone, especially you. Less mess means less time cleaning up and more time enjoying your gathering.
Hefty Everyday Soak-Proof Plates are ideal for adding to your list when planning your next barbecue. They're strong and spill-resistant to easily hold up to heavy food like burgers and ribs. These Hefty paper plates are disposable and make cleanup fast. They will help to make outdoor entertaining easier. These plates can also be placed in the microwave for a limited time for reheating dry foods such as sandwiches, crackers and breads. Use them for family gatherings, birthday parties and much more.
WALMART.COM SM is a service mark of Wal-Mart.com USA, LLC and Wal-Mart Stores, Inc.
Search from sale information
Sale information at May 22, 2019, 12 am
Share Price-Funnel
"Price-Funnel" aspires to be a more user-friendly site. It would mean a lot to us if you can share our site from the share button below.
Could you please take some time to answer our site-improvement questionnaire?
"Price-Funnel" aspires to be a more user-friendly site. We would appreciate it if you can take the time to answer our questionnaire annonymously, as we value the input of our users.