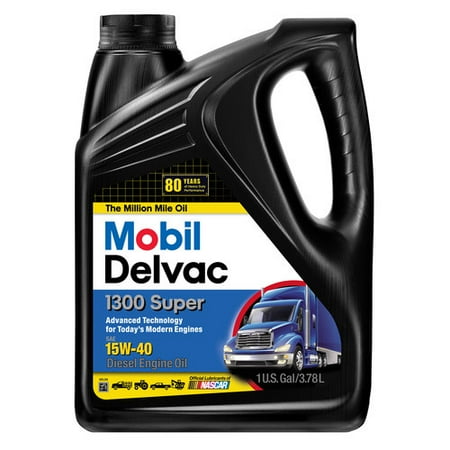 Mobil Delvac 15W-40 Heavy Duty Diesel Oil, 1 gal.
Information regarding the items are compared based on input acquired from article numbers and item keywords. Once you jump to the external online retail site, the actual item and conditions may be different. Once you jump to the external online retail site, please make sure to confirm the item and conditions. Please note that items that do not come up in the search results may be lower in price, and the list price may fluctuate.
Detailed information
Product description
Mobil Delvac 15W-40 are extra high performance diesel engine oils that help extend engine life in the most severe on and off-highway applications while delivering outstanding performance in modern, high-output, low-emission engines including those with Exhaust Gas Recirculation and Aftertreatment Systems with Diesel Particulate Filters and Diesel Oxidation Catalysts. Fully backwards compatible, Mobil Delvac will also deliver the same exceptional performance in older conventional engines. As a result, they meet or exceed the requirements of the API CJ-4, CI-4 PLUS and CH-4 service categories as well as key Original Equipment Manufacture requirements for 2007 engines.


Mobil Delvac 15W-40 Heavy Duty Diesel Oil, 1gal:
Superior soot-viscosity control
Greater engine efficiency, long engine life and long oil life
Outstanding thermal and oxidative stability
Reduced low temperature sludge build-up and high temperature deposits
Excellent oil consumption control
Lower oil costs due to less make-up oil during operation
Outstanding TBN reserves
Improved corrosion protection and extended drain intervals for both new and old engines using either low or ultra-low sulfur diesel fuel
Stay-in-grade shear stability
Maintains viscosity in severe, high temperature service for greater wear protection and long engine life
Excellent low temperature pumpability
Faster oil flow and reduced wear during engine start-up in low temperatures
Superb resistance to corrosive and abrasive wear
Long life of critical wear surfaces
Component compatibility
Long gasket, seal and after-treatment life
Meets demanding specifications of key OEMs and latest API gasoline service category
WALMART.COM SM is a service mark of Wal-Mart.com USA, LLC and Wal-Mart Stores, Inc.
Search from sale information
Sale information at May 23, 2019, 8 pm
Share Price-Funnel
"Price-Funnel" aspires to be a more user-friendly site. It would mean a lot to us if you can share our site from the share button below.
Could you please take some time to answer our site-improvement questionnaire?
"Price-Funnel" aspires to be a more user-friendly site. We would appreciate it if you can take the time to answer our questionnaire annonymously, as we value the input of our users.