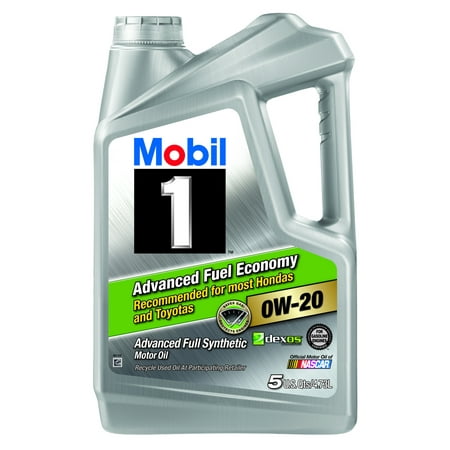 Mobil 1 Advanced Fuel Economy Full Synthetic Motor Oil 0W-20, 5-qt.
Information regarding the items are compared based on input acquired from article numbers and item keywords. Once you jump to the external online retail site, the actual item and conditions may be different. Once you jump to the external online retail site, please make sure to confirm the item and conditions. Please note that items that do not come up in the search results may be lower in price, and the list price may fluctuate.
Detailed information
Product description
Keep your engine running like new with the help of this Mobil 1 0W-20 Full-Synthetic Motor Oil. It is an advanced full-synthetic engine oil that is designed to provide exceptional wear protection, cleaning power and overall performance. This Mobil 1 advanced fuel economy motor oil bottle will support your car through oil change after oil change, helping to enhance and extend your engine's life. Its enhanced frictional properties help deliver superb viscosity control. These, alongside its cold weather capabilities, help it to deliver stronger fuel economy for your vehicle. Mobil 1 meets or exceeds the requirements of the industry's toughest standards and outperforms conventional oils. Mobil 1 technology comes as standard equipment in many different vehicles, including select high-performance vehicles.

Mobil 1 Advanced Fuel Economy full synthetic motor oil 0W-20 is low-viscosity to help improve fuel economy*
Extends engine life, providing better friction reduction for engine wear protection.
Helps engines last longer by working to prevent damaging deposits and sludge buildup
Provides excellent internal engine heat protection (up to 500 degrees F) and low temperatures (to -40 degrees F)
Helps to control oxidation to prevent oil breakdown and maintain excellent viscosity for up to 10,000 miles between oil changes
WALMART.COM SM is a service mark of Wal-Mart.com USA, LLC and Wal-Mart Stores, Inc.
Search from sale information
Sale information at May 23, 2019, 8 pm
Share Price-Funnel
"Price-Funnel" aspires to be a more user-friendly site. It would mean a lot to us if you can share our site from the share button below.
Could you please take some time to answer our site-improvement questionnaire?
"Price-Funnel" aspires to be a more user-friendly site. We would appreciate it if you can take the time to answer our questionnaire annonymously, as we value the input of our users.