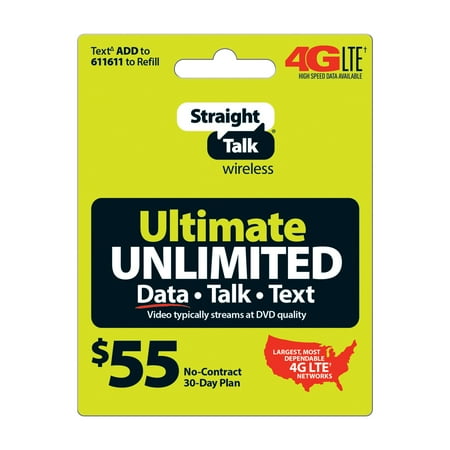 Straight Talk Ultimate Unlimited Prepaid Phone Plan, for No Contract Cell Phone Service, Unlimited 4G LTE Data+Talk+Text, $55
Information regarding the items are compared based on input acquired from article numbers and item keywords. Once you jump to the external online retail site, the actual item and conditions may be different. Once you jump to the external online retail site, please make sure to confirm the item and conditions. Please note that items that do not come up in the search results may be lower in price, and the list price may fluctuate.
Detailed information
Product description
Get high-speed, unlimited nationwide cell phone service without an expensive contract Unlimited data, talk, text on a no-strings-attached prepaid phone plan from Straight Talk Don't sign up for a long, complicated contract— choose your cell phone service plan month-to-month More than a calling card—this prepaid plan provides talk, text, and data At 60 GB, we reserve the right to review your account for usage in violation of Straight Talk's terms and conditions High-Speed, UNLIMITED Data, Talk, Text, and Streaming with Straight Talk Straight Talk Ultimate Unlimited is more than an ordinary calling card. This $55 nationwide plan gives you unlimited talk, text, and data service anywhere in the U.S.A. Prepaid phone plans aren't only for temporary or bare-minimum cell phone service anymore. A smart phone can help you in countless ways every day— empower yours to do it all with Straight Talk Ultimate Unlimited. America's Largest, Most Dependable 4G LTE Networks Smart phones powered by Straight Talk use the same high-speed 4G LTE networks as phones with a conventional contract. That means you get the same great coverage and convenience of the big-name networks on a flexible no contract plan! Straight Talk Ultimate Unlimited allows you to: Download apps, music, and images fast Access your email anytime, anywhere Stream video at DVD quality Play popular online games from the App Store or Google Play This Straight Talk plan gives almost any smart phone access to high-speed 4G LTE data, but cannot be used for personal hotspots. Straight Talk's Ultimate Unlimited plan gives you unlimited high-speed data and cell phone service with no complex, expensive contracts! Simplify your smart phone experience and get everything for less with Straight Talk. For more information on any of our prepaid phone plans, go to StraightTalk.com, or text∆ HELP to 611611! Legal ∆By texting keywords to 611611 you are consenting to receive response messages

Prepaid phone plan for Straight Talk phones
Unlimited data, talk, and text from Straight Talk
Contract-free cell phone service from 4G LTE networks
Go beyond calling cards— pick up high-speed unlimited cell phone service at Walmart
Download, steam, and play at high speeds with a simple, convenient monthly purchase
WALMART.COM SM is a service mark of Wal-Mart.com USA, LLC and Wal-Mart Stores, Inc.
Search from sale information
Sale information at May 23, 2019, 10 pm
Share Price-Funnel
"Price-Funnel" aspires to be a more user-friendly site. It would mean a lot to us if you can share our site from the share button below.
Could you please take some time to answer our site-improvement questionnaire?
"Price-Funnel" aspires to be a more user-friendly site. We would appreciate it if you can take the time to answer our questionnaire annonymously, as we value the input of our users.