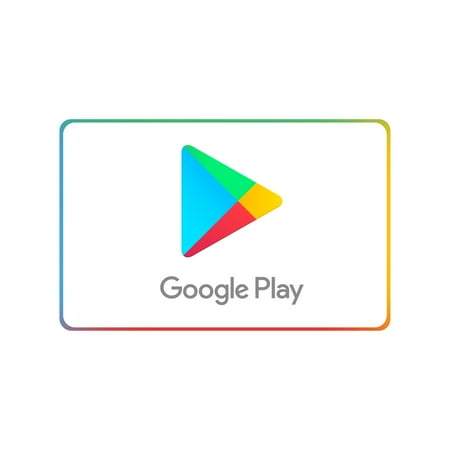 Google Play $50 Gift Code (Email Delivery)
Information regarding the items are compared based on input acquired from article numbers and item keywords. Once you jump to the external online retail site, the actual item and conditions may be different. Once you jump to the external online retail site, please make sure to confirm the item and conditions. Please note that items that do not come up in the search results may be lower in price, and the list price may fluctuate.
Detailed information
Product description
Google Play gift codes give anyone access to the latest entertainment. It's easy to find something you'll love, whether you're into music, movies, TV, books, magazines, apps, or games. W ith no credit card required, Play gift codes let you enjoy your favorite songs, movies, and more on screens of all sizes across Android, iOS, and the web.
You will receive a confirmation email from Walmart.com within minutes of successful order placement.
A second email from walmartonline@e-deliverygroup.com with access to your PIN will be delivered within 60 minutes*
If you have issues receiving your email, go to the following webpage to access your purchase: www.walmart.e-deliverygroup.com. Enter your email address used to order on Walmart.com, your billing ZIP code and your Walmart.com Order Number (your order number can be found on your confirmation email from Walmart.com or in your Account Order History on Walmart.com).
To view frequently asked questions about this product visit www.walmart.e-deliverygroup.com/faq.html
There are no returns or refunds on electronically fulfilled PIN numbers. Walmart.com is not responsible for stolen or misplaced PINs.
*Pins are usually delivered in minutes or, at most, within 48 hours depending on additional order validation required by Wal-Mart or your Credit Card company.
WALMART.COM SM is a service mark of Wal-Mart.com USA, LLC and Wal-Mart Stores, Inc.
Search from sale information
Sale information at May 23, 2019, 10 pm
Share Price-Funnel
"Price-Funnel" aspires to be a more user-friendly site. It would mean a lot to us if you can share our site from the share button below.
Could you please take some time to answer our site-improvement questionnaire?
"Price-Funnel" aspires to be a more user-friendly site. We would appreciate it if you can take the time to answer our questionnaire annonymously, as we value the input of our users.