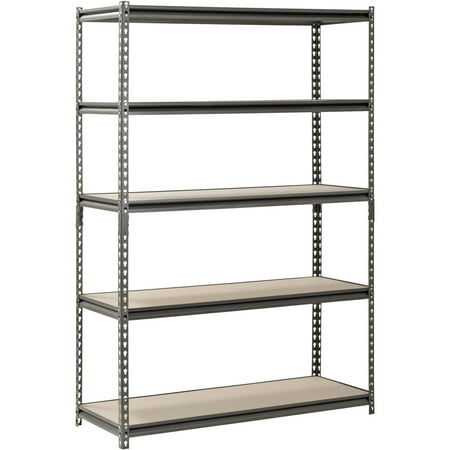 Muscle Rack 48" W x 18" D x 72" H, 5-Shelf Steel Shelving, Silver-Vein
Information regarding the items are compared based on input acquired from article numbers and item keywords. Once you jump to the external online retail site, the actual item and conditions may be different. Once you jump to the external online retail site, please make sure to confirm the item and conditions. Please note that items that do not come up in the search results may be lower in price, and the list price may fluctuate.
Detailed information
Product description
The Muscle Rack 5-Shelf Steel Shelving helps you keep your garage, shop or other space organized. It features industrial grade steel construction with a durable silver vein finish. A Z-beam design provides strength and rigidity, even when loaded. Four shelves with particle board decking can be adjusted in 1-1/2" increments to hold items of various sizes. It includes a rivet lock design and post coupler to make assembly faster and easier, no nuts or bolts are required. You can set it up vertically as a shelving unit or horizontally as a workbench. The instructions are included to assist you during the assembly process. This Sandusky Lee shelving measures 18" d x 48" w x 72" h in size.

Shelves are made of particle board
Shelves are supported by double-riveted beams and braces
Industrial shelving units adjust in 1-1/2" increments
Post connectors allow easy assembly in just minutes
Rivet lock design for boltless assembly
Instructions included
Rubber mallet recommended for the assembly of this 5-shelf steel shelving unit (sold separately)
2-piece post design for vertical assembly of a single 72" high unit, or for horizontal assembly of two 36" high units
Model number: UR481872PB5P-SV
WALMART.COM SM is a service mark of Wal-Mart.com USA, LLC and Wal-Mart Stores, Inc.
Search from sale information
Sale information at May 23, 2019, 8 pm
Share Price-Funnel
"Price-Funnel" aspires to be a more user-friendly site. It would mean a lot to us if you can share our site from the share button below.
Could you please take some time to answer our site-improvement questionnaire?
"Price-Funnel" aspires to be a more user-friendly site. We would appreciate it if you can take the time to answer our questionnaire annonymously, as we value the input of our users.