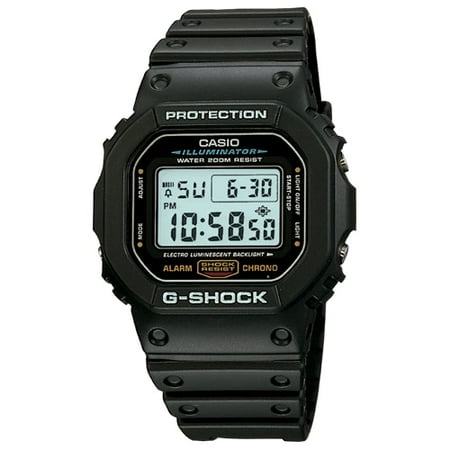 G-Shock Classic Core DW5600E-1 Wristwatch
Information regarding the items are compared based on input acquired from article numbers and item keywords. Once you jump to the external online retail site, the actual item and conditions may be different. Once you jump to the external online retail site, please make sure to confirm the item and conditions. Please note that items that do not come up in the search results may be lower in price, and the list price may fluctuate.
Detailed information
Product description
Manage your time effectively with the Casio G-Shock Illuminating Watch. With a shock-resistant design, this watch can withstand and survive a 10-meter fall without getting damaged. This Casio G-Shock Illuminating Watch has a simple design, which best suits men and goes well with any casual wear. The G-Shock men's watch has an electro-luminescent backlight to make the whole display visible under any light condition. The Casio G-Shock Watch features a countdown alarm, which gives audible signal at a preset time that helps you handle your busy schedule. With features like auto-repeat and auto-calendar, this watch keeps you alert and updated. The Casio DW5600E-1V G-Shock Illuminator Watch is water resistant up to a depth of 200m and is perfect for scuba divers.
Casio Men's G-Shock Classic Core Wristwatch DW5600E-1V:

Watch Shape: Square
Case Diameter: 45 mm
Band Length: 9 inches
Watch Design: Sports
Watch Calibration: Chronograph
Watch Format: Digital
Movement: Quartz
Glow Type: EL Backlight
Wrist Band Material: Rubber
Wrist Band Color: Black
Wrist Band Type: Strap
Wrist Band Lock Type: Buckle
Features: Countdown Timer, Calendar, 12/24hr Format, Stopwatch
Water Resistance: 660 ft
Durability: Water Resistant, Shock Resistant, Scratch Resistant
WALMART.COM SM is a service mark of Wal-Mart.com USA, LLC and Wal-Mart Stores, Inc.
Search from sale information
Sale information at May 22, 2019, 12 am
Share Price-Funnel
"Price-Funnel" aspires to be a more user-friendly site. It would mean a lot to us if you can share our site from the share button below.
Could you please take some time to answer our site-improvement questionnaire?
"Price-Funnel" aspires to be a more user-friendly site. We would appreciate it if you can take the time to answer our questionnaire annonymously, as we value the input of our users.