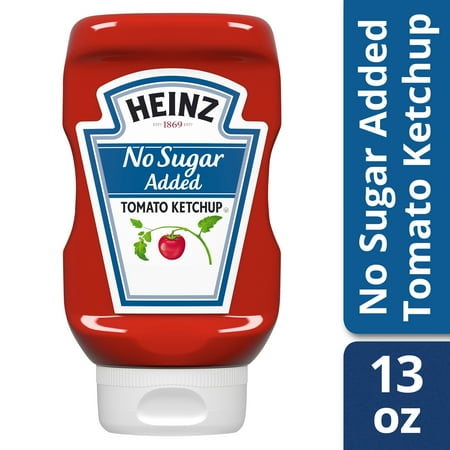 (3 Pack) Heinz No Sugar Added Tomato Ketchup, 13 oz Squeeze Bottle
Information regarding the items are compared based on input acquired from article numbers and item keywords. Once you jump to the external online retail site, the actual item and conditions may be different. Once you jump to the external online retail site, please make sure to confirm the item and conditions. Please note that items that do not come up in the search results may be lower in price, and the list price may fluctuate.
Detailed information
Product description
Get the fantastic taste of Heinz ketchup without all of the sugar with Heinz Tomato Ketchup Reduced Sugar, 13 fl oz. Theres nothing like the flavor of Heinz ketchup, whether its drizzled over steak fries, French fries or onion rings or generously dolloped atop hamburgers and hotdogs. The sweet, tangy flavor makes your favorite comfort foods taste amazing; if youre trying to reduce your overall sugar intake or are following a low glycemic index diet, you may have had to forgo Heinz for a lesser product simply to avoid spiking your blood sugar levels. With Heinz ketchup reduced sugar, you can enjoy the inimitable flavor of Heinz all over again, with substantially less sugar, calories and carbohydrates. Rich, juicy tomatoes are blended with Heinzs secret spices and sweetened with sucralose instead of sugar, for the same delicious taste with just five calories and 1g of carbohydrates per serving. The low carb tomato ketchup comes in a 13 fl oz squeezable bottle for easy use.&

Heinz Tomato Ketchup, Reduced Sugar, 13 fl oz:

Best if used by date on cap
Shake well before first use
For best results, refrigerate after opening
Heinz ketchup reduced sugar is Kosher
Full flavor with less sugar and calories than original formula Heinz ketchup
Serving size: 1 tbs
5 calories/serving
1g carbohydrates/serving
Sweetened with sucralose; not found in regular ketchup
Squeezable bottle for easy use
For updated accuracy on country of origin data, it is recommended you rely on product packaging or manufacturer information
WALMART.COM SM is a service mark of Wal-Mart.com USA, LLC and Wal-Mart Stores, Inc.
Search from sale information
Sale information at May 23, 2019, 10 pm
Share Price-Funnel
"Price-Funnel" aspires to be a more user-friendly site. It would mean a lot to us if you can share our site from the share button below.
Could you please take some time to answer our site-improvement questionnaire?
"Price-Funnel" aspires to be a more user-friendly site. We would appreciate it if you can take the time to answer our questionnaire annonymously, as we value the input of our users.